Words
Click for more info
Negative Space
Click for more info
Wimpy Kid
Click for more info
Lines
Click for more info
Polaroid
Click for more info
Geometric
Click for more info
Meet our Designers
We have our very own design team, here to craft a cover that resonates with everyone. Patrick, our skilled designer, has compiled some valuable tips to help kickstart your design project. Our designers are passionate about bringing your ideas to life and thoroughly enjoy collaborating with schools to create the perfect cover.
Collaborating closely with our customers allows us to offer a cover that suits your specific needs. We understand that each customer has their unique identity, so we invest the time to tailor pre-made templates to align perfectly with your school's individual character. These templates serve as a canvas, and the design process becomes more efficient when you provide additional details. You can think of it as selecting a template and then personalizing it with your preferred colours and imagery.
Each year we introduce new covers, and you can find our latest designs for 2024 below.
Patrick's top tips
Embracing Colours: Discovering diverse colour palettes can be a delightful endeavor. Our selection of colours is vast, allowing you to pick your preferred shades. Think about the concept of creating a seamless connection by coordinating your cover's colour scheme with the colours found on the pages within your yearbook.
Starting with Templates: Confused about where to start? Patrick suggests commencing your creative journey with our range of templates. These templates serve as a fantastic foundation to kickstart your design process and spark your creativity.
Fonts for your cover: Don't hesitate to delve into a range of creative fonts, and please share your sources of inspiration. If you have a specific font in mind, do let our designer know, especially if it aligns with the fonts used in your book. Ensuring consistency by using one or two fonts that match those in your book is essential for a more cohesive and impactful design.
We craft custom designs
With our in-house design team, we have the capability to bring your unique yearbook ideas to life. All our premium books come with various endpaper styles. If you desire a personalised touch like adding a school motto, quote, or special message, simply inform our designers, and we can make it happen.
Adventure
Click for more info
Dream
Click for more info
Abstract
Click for more info
Explore our 2024 yearbook covers
This year we've gone above and beyond with our range of new cover designs!
Discover our fresh collection of yearbook covers for 2024, which includes some of our all-time favourites from the previous year. With us, cover design is an inclusive part of our pricing structure, so you don't need to be a graphic designer to have an amazing yearbook cover!
You have the freedom to select from our cover templates, and our designers can personalise them using your school or group's distinctive colours. If you prefer to include names and numbers on the back of your yearbook, just inform your designer.
To explore more of our high-quality yearbook cover options, please visit the cover section within the yearbook editor. We offer a carefully curated selection of covers designed to meet your unique needs, ensuring that you find the perfect fit for your yearbook project. If you haven't set up a yearbook yet, get started now!
Cover design highlights
Some of the best covers designed by students last year.
Inside your yearbook - awesome profile layout templates!
Profiles are a huge part of the yearbook, we know this and we have highlighted just a couple of our most popular profile layouts. This means that you can have a professionally designed yearbook using our online system but in the colour and style of your choice.
L392
The perfect way to display one profile per page!
L421
If you want to just add quotes and photos this profile layout makes that easy and colourful.
L431
Choose a style that suits you and change your colours in the theme area.
Celebrating the students!
Every year we see some fantastic covers created by students from all over the world! We want to showcase these covers for everyone to see! There is some amazing talent so why not show it off! Some schools run cover competitions whilst other work with graphic design students to create their covers. Of course, our team of designers are here to bring your ideas to life and create yearbook covers. However, if you are feeling creative and you want to create your own cover, check out the section below which gives you all the information on how to design and create your own yearbook cover!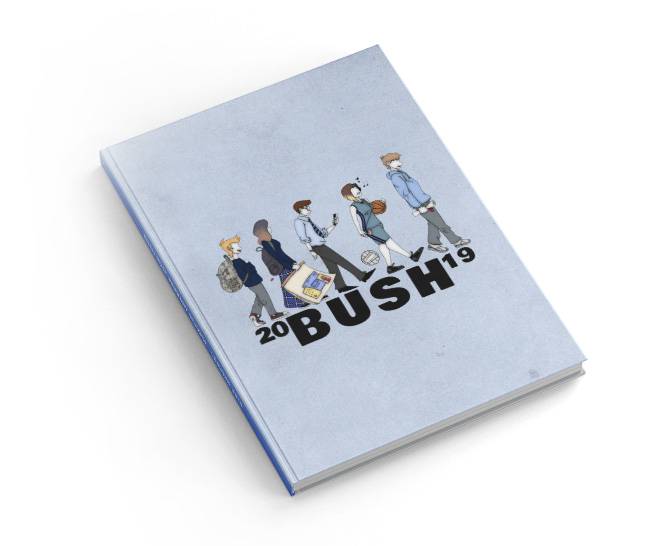 Bush Post Primary School
We love this cover! In cartoon form, it perfectly illustrates the journey through school life! This cover has been created as a collaboration project between two graphic designers, one of them a student at that school. We are really excited to be able to offer this cover to our customers! When we see covers designed by students that we love, we sometimes get in touch with the artist to gain permission to use the artwork. Check out the cover section in the yearbook to use it this year!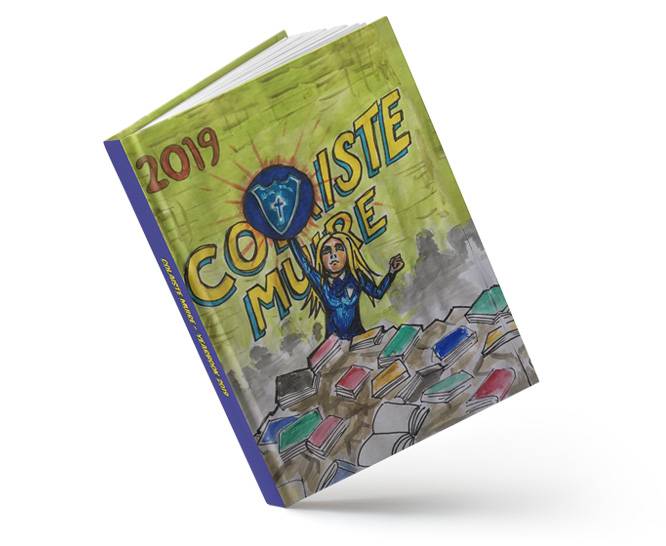 Colaiste Muire Ennis Co. Clare
Running a yearbook cover competition in school is such a great idea and it gives students the chance to get creative and be part of the yearbook! This watercolour painting created by the student has been scanned in our designers here have worked with the school to get the perfect finish!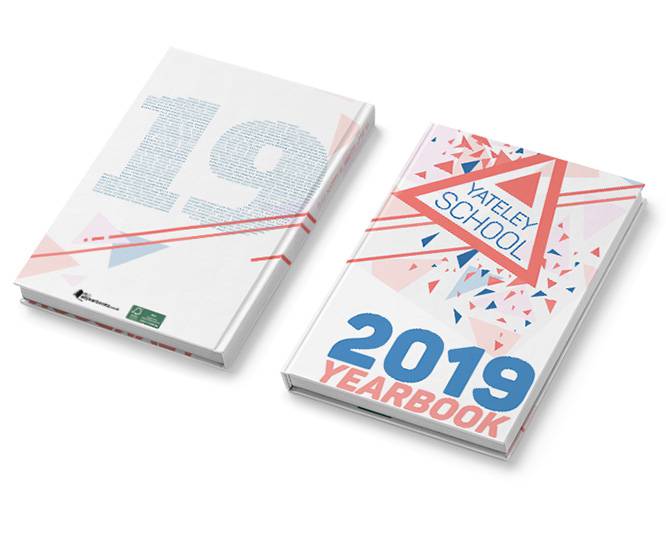 Yateley School
We have been creating yearbooks for over 10 years so when we see something new, we get quite excited. We love the abstract style and colours of this yearbook. The fonts look great printed in perfect white it really stands out! Well done guys!
Time to design
Creating and designing your own yearbook cover is becoming more and more popular. For information from our design team on how to get the best results, visit this page to see what you need to know.
Design Q&A.
Can we change the colours and the text on the sample covers?
Of course you can, it's your yearbook so you get to choose the colours. If you have specific school colours and fonts speak to the designers and they can create a cover that matches your school.
We don't have a copy of our logo - can you help?
If we have worked with you before and you sent us your logo we will have this on file, however if your logo changes we would always recommend you send us a high resolution copy, you will see the difference when printed!
Where can I talk to the designers?
All conversation and design happens in the yearbook. Once you have set up a yearbook you will see the 'Cover' section it's here that you choose the style of cover that you like. You can leave messages, attach photos, logos and messages all in one place, this is also where the versions of your cover will be displayed. Once you happy with the cover you just click approved!
How long does it take to design a cover?
Every school is different, sometimes it's a simple couple of colour changes and text, other times it's unique ideas that take more creativity and time. We always recommend thinking about your cover at the start of the project. Leaving your cover to the last minute could mean that our designers are too busy to create the cover of your dreams! Of course it will look great, but the more time we have the more creative we can be!
Can you create a background for me?
We can create anything for you. Just speak to our team of yearbook experts and share your ideas with us!
How does our cover appear on the celebrated student section?
Each year we will review the covers created by schools and students, we love celebrating the students - the top three that our designers choose will be featured, with your permission. We might even start giving out prizes!
If selecting premium or leatherette hardback yearbooks what can we have engraved?
When you select one of our premium books you can choose either silver or gold engraving, some schools choose to engrave their school logo, the date or the school motto.
How can I include a list of names on the back cover?
Send your list of names in the 'Cover' section and our designers will create the number for you.
Can we have endpapers if we don't have premium yearbooks?
Our endpapers are the perfect way to display a whole group photo, have a school motto, a quote or just have watermarks on for signing names. Endpapers are only available on our premium books, if you would like to see a copy of our premium book you can request a sample pack here.